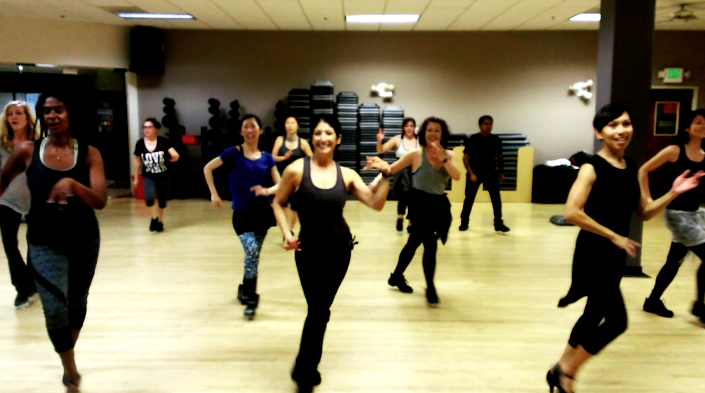 LOS ANGELES, CA, March 28, 2014 / 24-7 Press Release /– Latinva® Dance Fitness Instructor, Alice Cangas, competing in the Gym Crew Challenge on Saturday, March 29, 2014, 8:00 p.m., at Barnsdall Galley Theatre, 4800 Hollywood Blvd, Los Angeles, CA 90027.
Alice Cangas…
Alice is a native born Californian and has enjoyed dancing for many years. As a young adult Alice was a member of a competitive dance team. She is a team player and enjoys the energy that the participants in her Latinva classes bring to her. Alice integrates her years of experience with her enthusiastic attitude to create a fun, invigorating exercise experience. Alice believes that dance is a true expression of the soul and that we all have our own interpretation of what dance is. No one is wrong when it comes to dance! It is meant to be shared and felt from the heart and soul. Dance with a purpose…to feel fit, free, healthy and happy.
The Team…
Alice and her amazing team are going to battle it out for cash, prizes and bragging rights as Gym Crew Challenge Champions. Alice's Team members include Marta Mares, Stephanie Mora, Saki McCarthy, Rie, Rumiko Hughes, Kyung Lord, Elgee Amato, Shamma Singh, Ratan Lalchandani and Bess Wiley. Be there to show your support!
Dance Fitness Certification Program…
Are you interested in teaching and fitness? Then become a certified as a group fitness instructor. Our workshops will help fitness professionals embark on a career teaching cardio dance fitness workout classes. They provide innovative ideas and skills to choreograph exciting routines that provide instructors with the skills to cater to a diverse range of individuals at different levels of fitness and ability. As a certified Latinva Dance Fitness instructor, you will help individuals attain one of the greatest gifts of all, that of good health…one dance step at a time.
Dance Fitness Revolution…
There is nothing traditional about Latinva…it solely includes dance rhythms and moves for a total body-sculpting and core-strengthening workout. Latinva incorporates aerobics, continuous and resistance training…simply by dancing!
Dance Fitness Workout…
Latinva is an amazing cardio dance workout, you will learn new dance steps, improve your coordination, tone your core, arms, and legs, and ultimately achieve beautiful body lines…just like a dancer. You move to the rhythm and beat of sexy Latin dance rhythms and amazing Latin and International music. Let loose, feel the music and dance yourself into shape…it is a fun and an amazing dance party!
About Latinva…
What is Latinva®? In Spanish "Va" means "Go", and "Latinva®" means "Go Latin." Latinva celebrates the beauty of Latin dance. Latinva will take you away from your job, your school, your drama…you just feel the music and rhythms and simply forget everything else! Latinva is an amazing mind and body connection.
Johnny is the creator and founder of Latinva. He was born in Ecuador and came to the United States after a long and successful career in South America as a dancer, choreographer and trainer. Johnny teaches his sensational dance program at the most prestigious fitness clubs in Los Angeles.
Latinva is recognized by the American Council on Exercise ("ACE"), Aerobics and Fitness Association of America ("AFAA") and IDEA Health and Fitness Association. To find out more about Latinva, visit us at http://latinva.com. To find out more about the Latinva Revolution, visit us at Latinva DVDs.