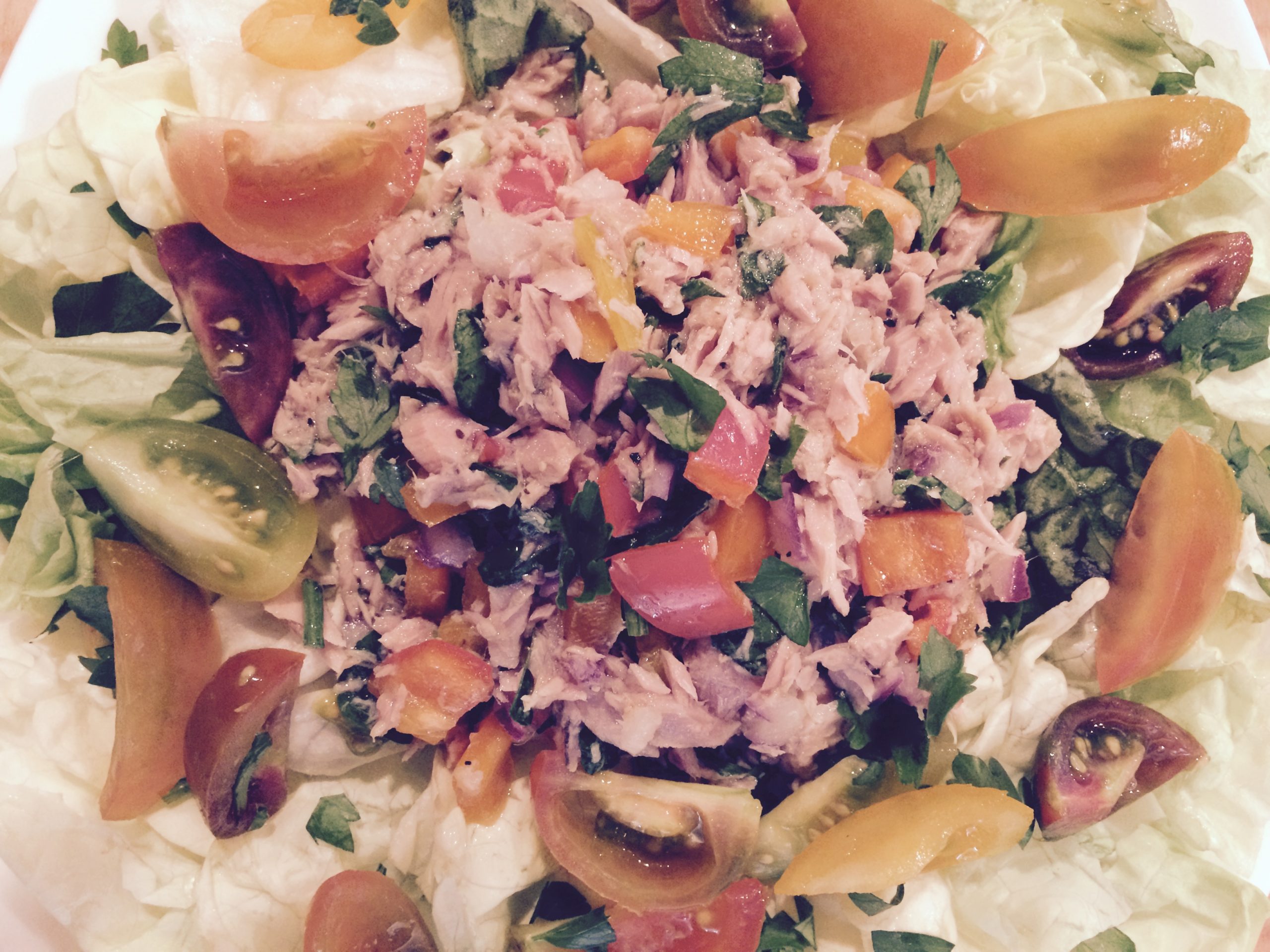 This terrific no-mayonnaise tuna salad is delicious, flaky and crunchy, and is a fantastic addition to a healthy diet. It is perfect for lunch, sandwiches, and picnics. Turn this salad into a sandwich, cut a whole-wheat pita pocket in half, toast and stuff with tuna mixture, lettuce and tomatoes and enjoy! Simply…terrific!

– Add dry roasted unsalted chopped walnuts for a delicious and nutritious crunch.
– Add a boiled egg per serving for extra protein.

Ingredients – Salad:
• 1 bag of butter lettuce or romaine lettuce (5 ounces)
• 2 7oz. cans of light tuna in water
• 4 chopped mini bell peppers (2 red, 1 orange and 1 yellow)
• 2 teaspoons chopped flat-leaf parsley
• 1 cup mixed heirloom cherry tomatoes cut into quarters

Ingredients – Dressing:
• 1 small finely chopped red onion
• 2 tablespoons extra-virgin olive oil
• ½ lemon juice
• ¼ teaspoon sea salt or to taste
• ¼ teaspoon ground black pepper or to taste

Preparation:
• Drain water from canned tuna.
• In a bowl, whisk onions, oil, lemon juice, salt and pepper.
• Add tuna, bell peppers, and parsley and toss well.
• Spread lettuce on plate and add tuna on top of the lettuce.
• Scatter tomatoes and walnuts. Serve immediately.

Serves: 6
Active Time: 15 minutes
Total Time: 15 minutes
Nutrition Facts Per Serving: 78 Calories, 4.6g Carbohydrates, 3.34mg Cholesterol, 4.7g Fat, 147mg Potassium, 4.45g Protein, and 157.5mg Sodium

3 Reasons to Eat Canned Tuna:

1) Weight Control: Tuna is very high in lean protein and can aid in weight loss.

2) Reduce Risk of Heart Disease: Tuna is a rich source of omega-3 fatty acids. Research uncovered that unsaturated fats improve blood vessel function, lower blood pressure and reduce the risk of cardiovascular disease.

3) Boost Metabolism: Tuna is an excellent source of vitamin B-3 (niacin). It also has vitamin B-1, vitamin B-6 and large amounts of folic acid, which helps prevent atherosclerosis. All B vitamins help the body convert carbohydrates into fuel, which is used to produce energy.